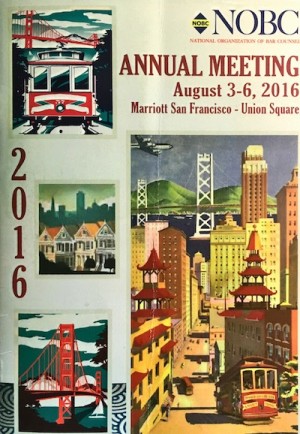 Ms. Love was a featured speaker on "Regulator Wellness" at the National Organization of Bar Counsel Conference in San Francisco, August 2016.
Regulators' Wellness - Agenda Abstract:
The new science of Positive Psychology provides a proactive approach for lawyers to decrease stress and prevent depression, anxiety, burnout, and other mental health concerns. Participants will learn the neuroscience behind Positive Psychology and Mindfulness. They will learn about empirically supported Positive Psychology exerciSes that increase positive emotions while turning off stress chemistry, and they will practice mind-body techniques that calm the nervous system, rejuvenate the practitioner, and create mindfulness for better emotional intelligence and professionalism. The exercises and techniques help lawyers attain greater quality of life, overall well-being, and improved erpotionai resilience. By incorporating these exercises, participants will feel more energized, will notice enhanced concentration, nand will experience better sleep.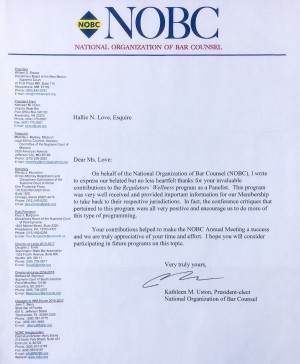 Dear Ms. Love: On behalf of the National Organization of Bar Counsel (NOBC), I write to express our belated but no less heartfelt thanks for your invaluable contributions to the Regulators Wellness program as a Panelist. This program was very well received and provided important information for our Membership to take back to their respective jurisdictions. In fact, the conference critiques that pertained to this program were all Very positive and encourage us to do more of this type of programming.

Your contributions helped to make the NOBC Annual Meeting a success and we are truly appreciative of your time and effort. I hope you will consider participating in future programs on this topic.