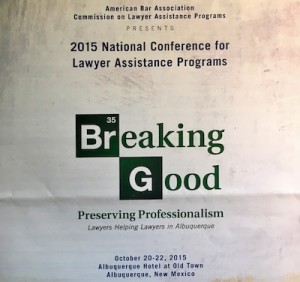 Hallie Love was selected by the ABA Commission for Lawyers Assistance Programs to be a Speaker on Positive Psychology for Lawyers at the National Conference for Lawyer Assistance Programs, October 2015.
Positive Psychology for Lawyers — An Effective Intervention for Superior Professionalism and Substance Abuse and Relapse Prevention

Hallie N. Love, Esq.

The new science of Positive Psychology provides a proactive approach to decrease stress and prevent depression, substance abuse and burnout. Its use is significant to high-quality sobriety, and it is compatible with methods used in substance abuse treatment. Further, many lawyers who would not be inclined to participate in a 12-step program may be attracted to the science and broad range of interventions and positive brain changing exercises afforded by Positive Psychology.

Participants will discover how to increase positive emotions using empirically supported Positive Psychology exercises. They will also learn how to do easy-to-teach mindfulness techniques that enhance Positive Psychology exercises. lhe exercises and techniques help lawyer-clients feel greater life satisfaction, overall well-being, and greater resilience. Additionally they provide awareness for better emotional intelligence necessary for attorney professionalism.

By incorporating these exercises participants will also have healthier careers resulting in decreased stress, increased resilience and thus better able to represent their clients.